"Every time I play cuts off The Midnight Commander, listeners ask 'Who's that?' It's Kray Van Kirk and there's none like him."  -  Auntmama  'Sunday Folks' DJ,  KBCS Seattle, WA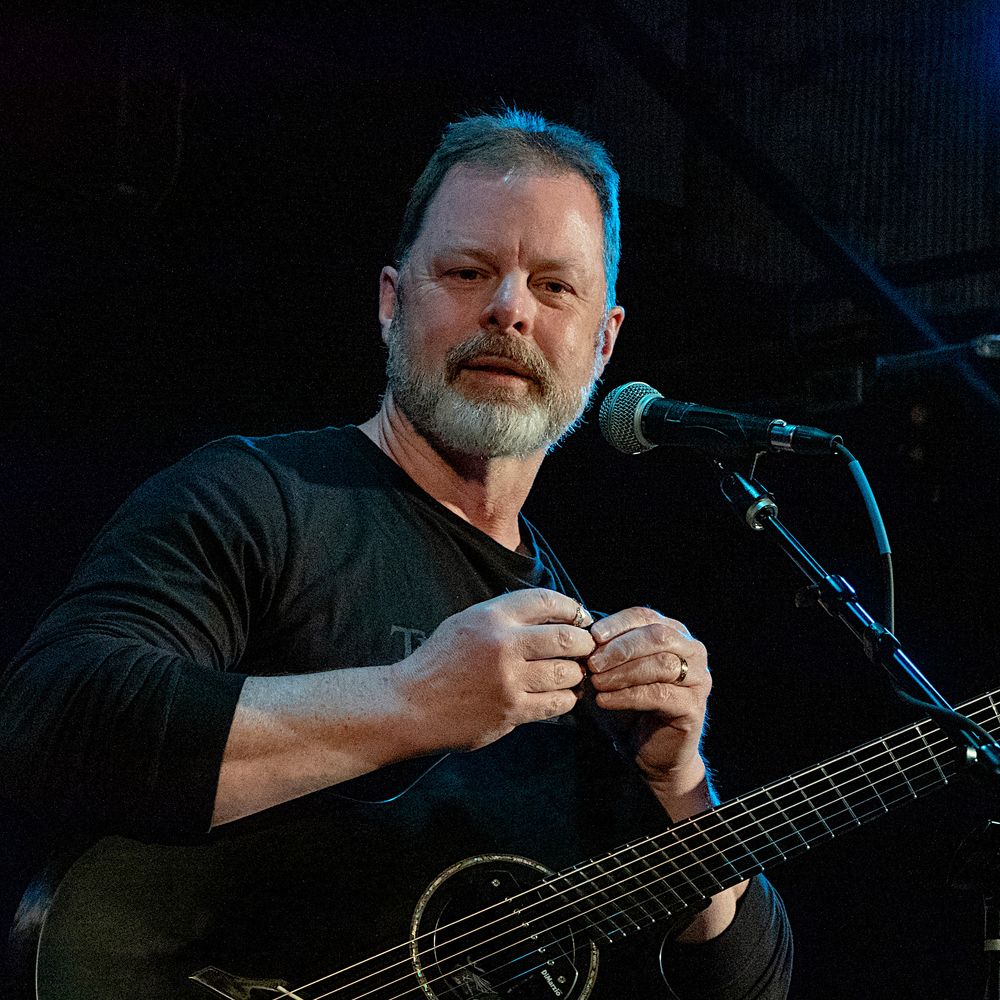 The room was almost empty after Van Kirk's show at the Fringe Festival in Edinburgh, Scotland. A man with shirt-sleeves rolled up in the August heat walked over to him and stood hesitantly for a moment before thrusting out his hand.

"I use to sing for my wife in the evenings, but she has dementia now and doesn't remember me. That song about the lost lovers and the dance hall..."

He stopped for a moment before his Scottish reserve reasserted itself.

"I really liked that one."
A fine finger-style guitarist with a precise baritone, Van Kirk has a Ph.D. from the University of Alaska. After five years of living in his van and playing music across the US and Canada, he thought that a career in the sciences might be a bit more secure than playing music for a living, especially as a single parent. Eventually, however, he realized that he liked writing songs more than statistical models, and he put aside his computer, picked up his guitar, and set out again.
He's not your average crying-in-your-coffee singer-songwriter. "We are driven by myth and the seasons of the heart" he says. "Science comes later. We need new stories and new myths for a very complex 21st century so that everyone, absolutely everyone, regardless of creed, color, gender, sexuality or anything else, can listen and look and see themselves on the Hero's Quest.
Thus his songs: Thunderbird resurrects the Phoenix in an empty desert diner somewhere in the American Southwest (yes, the Phoenix drives a Thunderbird), The Queen of Elfland plucks Thomas the Rhymer from the English-Scottish border in 1250 and drops him, along with the Queen, into a subway car, and The Midnight Commander has an insane old man leading the city of New York to take up arms (and underwear) against hatred.
Of this charming, Quixotic, and decidedly eclectic performer, the Borderline Folk Club in New York wrote "it is what every singer-songwriter should aspire to.

Kray Van Kirk brings freshness to ancient stories and songs, and an epic finery to new ones. His performance was brilliant and elevated us. "Magical" would be my word to describe it. His clear and moving take on "Where Have All The Flowers Gone" as an encore after a standing ovation had me crying.   -  
Kim McLaughlin, Portland Folk Music Society